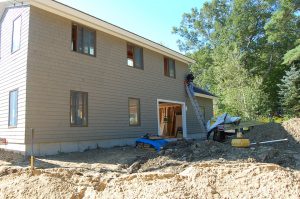 The local team over at Ipswich Bay Builders is happy to provide Newbury MA residents and business with their experienced contracting services. While servicing the North of Boston area for years and years we have found ourselves working within Newbury quite frequently. We have worked numerous
Construction
,
Kitchen Remodeling
, and
Bathroom Remodeling
projects and we have never turned down any difficult challenges, we thrive on them and that's why we believe our customers return to us. We have the teams to get the job done, the right way. Whether you have a business downtown or a newer three story home tucked away in one of Newbury's countless neighborhoods, Ipswich Bay Builders can help.
Home Construction Newbury, MA:
If you are looking for a reliable and committed team to work on your new construction then consider hiring Ipswich Bay Builders. We are the leading contractors in Newburyport, Ma. Our team has the experienced to work on any complicated or specific needs and wants that you desire.
Kitchen Remodeling & Renovation Newbury, MA:
One of the highest demands we receive from homeowners is kitchen remodeling. Investing in a kitchen will not only help beautify an important room in the house but also, adds more value to your property. If you are looking for a free consultation, be sure to get in touch!
Bathroom Remodeling & Renovation Newbury, MA:
We work closely with you from start to finish to get that dream bathroom you have been waiting for many years. Your satisfaction is important to us, we treat every project like it was our very own.