Realize Your Dream
For Your New Home
New Home Construction, Renovations, Additions & Remodeling and More
High Quality Service Combined With Years of Experience
Addressing Your Construction Concerns

Your North Shore Contractor
Ipswich Bay Builders, Inc. is a general contracting company based in Newburyport, MA. We are dedicated to a thoughtful approach to building that is in keeping with the heritage of the buildings and homes in the Essex County area. Our services include new construction, renovations, remodeling, and any general contracting jobs in the North Shore and the surrounding area including Essex MA, Manchester NH, Rye NH, Hampton NH, Amesbury MA, and more locations in Massachusetts and New Hampshire and across New England.
Exceeding Customer Expectations
Ipswich Bay Builders' goal is to exceed customers' expectations and build solid business relationships throughout the greater Newburyport area.
Ipswich Bay Builders strives for perfection in all aspects of a job.
Customer satisfaction is our number one goal, and we feel that open communication with clients is very important.
We pay strict attention to details and craftsmanship for all trades.
Historic Architectural Integrity
Our highly experienced, locally-based contractors have a familiarity with a new breed of materials that allows us to offer the best of new construction technologies and techniques to our customers, while keeping true to the architectural integrity of the homes in our area.  Collectively we have worked with homeowners, architects, and a wonderful group of subcontractors in our area since 1978 and it is our goal to continue to create work that we can be proud of for many years to come.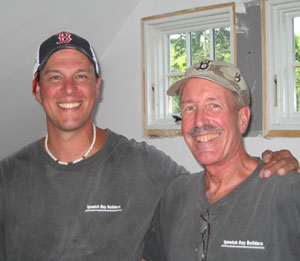 Charlie Horton and Joe Wright founded Ipswich Bay Builders in 1998 dedicated to a vision of crafting new construction with an architectural integrity that is true to the historic nature of homes in Massachusetts.
Charlie has strong roots in the Newburyport community – graduating from Newburyport High School in 1966. While studying at U Maine of Orono for Marine Biology (Class of '70) his life's work has been focused in Newburyport contracting since 1978. He has many fishing stories to tell and continues his love of the outdoors with pursuits in fishing, hunting, archery and anything that gets him outside. He is married and has two daughters.
Joe has lived in Ipswich all his life and graduated Ipswich High School in '92. He attended Merrimac College for Business Administration (class of '97) and has been a self employed carpenter since 1996. He spends his free time fishing, clamming and boating and lives in Ipswich with his wife, daughter and son.